Hagerson Forge
Show Report
Knife Expo 04; Feb 20-22, 2004, Buena Park, CA
Each year the Southern California Blades, knife Collectors Club, hosts Knife Expo. hosts one of the best knife shows on the west coast. Of course I may be biased, seeing as I am a member of SC Blades. For full information on the next Knife Expo, or past shows, go to SC Blades web site, www.scblades.com . This report is not so much about the show it's self, but rather my experiences at it.
This year once again the Knife Expo show was held on a Friday, Saturday and Sunday in February. And like it has for the past several years, it was held at the Sequoia Athletic Club and Meeting Center in Buena Park. Now this is great news for me, because I live less then 5 miles from the show site.
Prior to attending this show I started to really take my knife making seriously. I made a concerted effort to arrive at the show with as polished and professional look display as I could. In the weeks leading up to the show, I was out in my shop almost every night after coming home from work. My goal was to produce enough stock knives and a couple of show pieces. Enough to warrant the table fees I was paying to attend. In the end I think I made it. I ending up going to the show with 13 completed knives with prices ranging from $65 to $390. Of the 13 knives, I had 7 that were under $100. I had also acquired an inexpensive line of high quality zippered knife cases. So I had a very full table. And Last I got two new table cloths from Club President Michael Sanchez. So I was ready for set-up come Friday morning. And this is what My table looked like.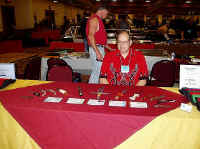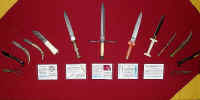 Photo by Helen Nauert Photo by Scott B. Jaqua
As the weekend progressed, I fine tuned my display. The biggest change was several small Plexiglas stands for the smaller knives. I also made sure some price tags were showing, so people won't think mine was a display only table. But overall I was really pleased with this set-up. The documentation cards on the larger knives went over very well.
This show was a great experience. It taught me great deal in how to present my knives. It also highlighted my niche in the market place. I got some very good feed-back on my knives and had an opportunity to show some of the makers that have inspired me, what I have done. Last SC Blades put on a great show and I fully intend on making it a regular event for me.